Exterior Painting in Kansas City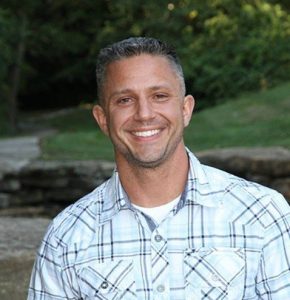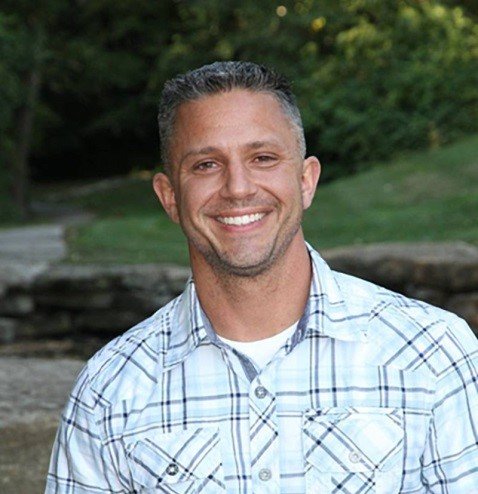 Increase Your Home's Curb Appeal With New Paint
Your home is likely to be your largest investment. All the time and effort spent in investing in your house to create your ideal home. When you have devoted so much to your home, it makes sense to protect it as well as you can. The professional house painters at Elite Painting KC will gladly help you defend your home from the harshest parts of Kansas City's weather with their exterior painting services in Kansas City. We will complete a 9-step exterior house painting process to ensure your home looks superb throughout the paint's lifetime. You can rest assured that your home will be protected once we finish this home improvement project. Our full-service painting company is here to offer the highest quality painting services to Kansas and Missouri homeowners, delivering 100% customer satisfaction and amazing home painting results.
When we've completed the project, you'll be able to brag to your friends and family about the excellent job and quality work you received at a reasonable price with a great residential painting warranty to back it up for exterior painting in Kansas City.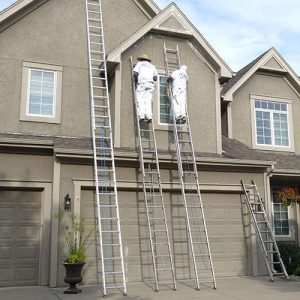 Once you make a final color selection, we will begin the preparatory work for your exterior project. This preparation includes cleaning the exterior of your home, scraping loose paint, and identifying wood rot you may wish to replace. By inspecting for damage to your house, we ensure your peace of mind and go beyond what other painting contractors may do in the course of residential painting.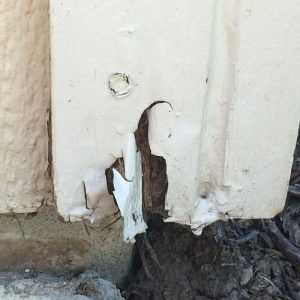 At Elite Painting KC, our experienced painters can use their carpentry skills to remove and replace any wood rot on the exterior of your house and can give pricing on what it would be to fix:
Fascia
Soffit
Lap siding
Brick molding
And many more exterior repairs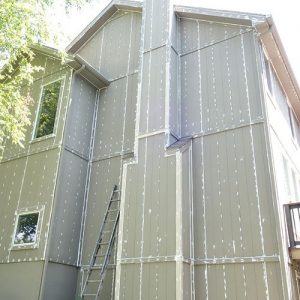 Once preparation for your house is completed, our team will then weatherproof the exterior of your home. We ensure complete protection through extremely high-quality prep work by securing loose paneling and siding, caulking wherever it is needed, and oil priming all raw wood. Even the most professional paint jobs can be improved by taking time to weatherproof everything beneath the paint, whether it's the house sides, entry doors, garage doors, and more – putting the time in upfront makes for the highest quality home painting results!
Kansas City homeowners have enjoyed the results of our workmanship, and their home is protected for years to come, partly because they worked with us here at Elite Painting KC for their exterior painting services in Kansas City.
Once any obstacles to the surface of the home are removed, we will spray on the first coat of exterior paint. We will then spray your second coat of paint to meet the highest industry standards. We finish our work by applying two coats to the trim on your home.
Each step in our 9-step exterior house painting process ensures that your home is properly protected. Prevent damage to your house property caused by weather and poorly done paintwork.
Finding a painting company that offers high-quality workmanship for exterior paint jobs at a reasonable price can be a challenge; however, your search can end with Elite Painting KC, where customer satisfaction is king.
Trust Elite Painting KC to keep your investment safe with their professional painting services.
Why Should You Repaint The Exterior Of Your Home?
Whether you're surrounded by suburbs with homes identical to yours, or you live on the outskirts where neighbors are few and far, there's a reason for every homeowner to repaint the exterior of their home.
Many homeowners choose to repaint the exterior of their homes when they are already making other renovations and repairs to the home. New renovations and new paint go hand in hand when it comes to putting on that finishing touch to any improvements. Other homeowners choose to repaint because, after several years of living in the home, it's always been the same paint color. Every homeowner has a different reason for repainting the outside of their home, but the majority of homeowners can indulge in the benefits a fresh coat of exterior paint can provide.
When you work with professional exterior painters such as Elite Painting KC, the fresh coat of paint on your home's exterior will automatically increase your curb appeal, especially if you take advantage of Elite Painting KC's color consultation expertise. High-quality exterior painting services that are done correctly will protect your home's exterior from elements such as harsh weather, bugs, and dust, all from the fresh new coat. This will help to prevent exterior wood from rotting, stop bugs from crawling into your home and keep the air inside of your home clean and dust-free. 
The number one reason homeowners choose to repaint the exterior of their home is that they're tired of looking at the same color of their home and need a new look. If you're looking for a fresh exterior paint job to protect from elements, increase your home value, or need a new exterior look, then Elite Painting KC is your choice for exterior painting services in Kansas City. Elite Painting KC's customer satisfaction and on-time services are trusted by homeowners in Kansas City and surrounding areas for all their painting needs.
Make the first step in having a new exterior when you contact us today for a free quote for exterior painting services near Kansas City.
Exterior Painting Video Gallery
Exterior Painting Projects
We are able to offer home painting, kitchen cabinet painting, interior painting, commercial painting, and more for most locations in the Kansas City metro area. We've performed beautiful work in many Kansas City areas, such as Overland Park, Olathe, Shawnee, Leawood, Lenexa, and throughout Johnson County, as well as Lee's Summit, Parkville, Gladstone, and other areas in Missouri.
Call today to schedule a free quote for exterior painting services or interior painting services, and let the professional painters at Elite Painting KC transform your Kansas City home!