Kitchen Cabinet Painting in Kansas City, MO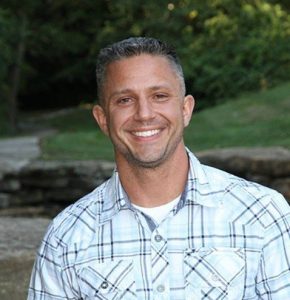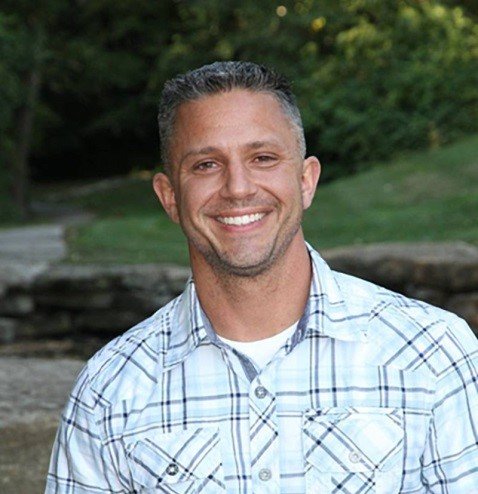 Your kitchen lies at the heart of your home — From preparing meals to helping with homework, you spend hours there each day. If you choose to update your cabinetry or want to install new cabinets, it can make your time spent in the kitchen more pleasant. Choosing to replace your cabinets or acquire custom cabinets can be quite a costly home improvement project compared to cabinet refinishing, sometimes requiring a more extensive kitchen remodel. When done correctly, however, refinishing your kitchen cabinets, countertops, or backsplash can prove to be an extremely wise investment.
When you decide to update, invest in a professional cabinet painting process like the one used at Elite Painting KC. Our cabinet painters can offer high-quality refinishing of your cabinets and will be more cost-effective and much faster than a home remodeling and replacing your existing cabinets, and is more than just a top coat "touch up."
The right company with the right process can give results as good, if not better, than new cabinets and offer so much more in the way of options and colors, and finishes.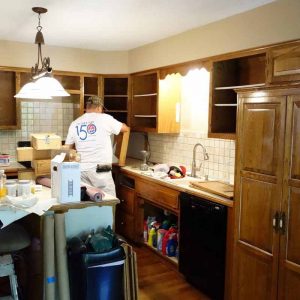 For more than 20 years, we have established procedures in cabinet refinishing services in Kansas City to ensure your cabinets are prepped and painted properly. As part of our refinishing services, we will remove the doors and drawers from their cabinets and then remove hinges, knobs, and handles. After caulking cracks and filling indentations with Bondo, we sand the doors and cabinets to degloss and smooth them. All this work ensures that your cabinet doors can look new again after the cabinet refacing, and the paint job will have that new look, lasting longer and offering protection for your kitchen cabinets.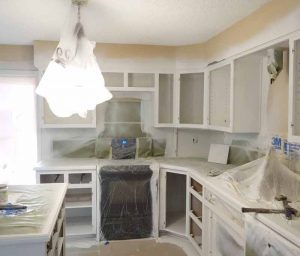 As we begin to prime your cabinets, we will spray on oil-based primers. Not only do oil-based primers apply more evenly, they also cover flaws and hide previous stains. Your cabinets will seem freshly purchased, like new cabinets directly from a wholesaler. We will let this primer dry and then sand it smooth to ensure your cabinets are impeccably refreshed. This is a crucial part of our cabinet painting process that ensures the new paint will bond with the surface and have a clean surface look.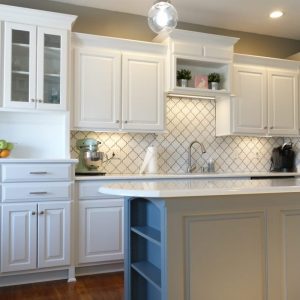 We will spray the final coat of oil-based paint onto your cabinetry to ensure the smoothest coat possible. This final spray will help your cabinets look like they just left the factory. Our cabinet painters prefer high-quality oil enamel paint for this step because it dries smoother and harder. Harder paint is easier to clean, more durable, and less likely to show stains or warp the cabinets, making for the best results in painting services for cabinet refinishing.
When you work with Elite Painting KC, you get comprehensive cabinet painting services in Kansas City and flawless workmanship that leaves you with the updated kitchen cabinets you want, the look of a new kitchen, and the customer satisfaction we have become known for in the Kansas City metro area. Doing an excellent job at a reasonable price isn't just one of our options; it's the only option.
Why Should You Repaint Your Kitchen Cabinets?
Repainting your kitchen cabinets can be a big change, like interior painting and exterior painting. After spending some time with their current kitchen cabinets, most homeowners can become ready for the change. Deciding to have professional kitchen cabinet painting instead of replacing your cabinets will save you time and money and other advantages, not all homeowners consider.
Choosing to have cabinet refinishing services in Kansas City will not only keep the same cabinets that have already become a critical part of your household, but it will also repair and update them throughout the process. Especially when you choose to use a professional kitchen cabinet painting service such as Elite Painting KC that uses a trusted cabinet painting process to repair, seal, and prevent. As a homeowner, it's crucial that every object, tool, and item has its own home within your storage spaces. Replacing your kitchen cabinets instead of refinishing them will eliminate the perfected storage spaces you have already created within your kitchen. 
Just as cabinet refinishing is a cost-effective choice, it will also be a quicker way to increase the value of your home. If you are deciding to list your home for sale and need to attract potential buyers, cabinet refinishing will have your cabinets looking brand new and create a great selling point. 
Furthermore, homeowners who choose to repaint kitchen cabinets will have endless options. There is a large variety of finishes and colors that will allow you to add your own personal twist to a cabinet refinishing that will make your old cabinets look brand new with your own personal style. With an ever-growing number of color options, you have the choice in finishes too. Whether it's a gloss, glaze, stretch, antique, or other finish option, either way, it will be unique to you and your home. 
From choosing a cost-effective method that can make your home feel rejuvenated and adds value to your home while providing the option to create your own personal style, cabinet refinishing services in Kansas City have a lot more to offer than most homeowners realize. When you're ready to make the change and repaint your cabinets the way you've always wanted them, contact Elite Painting KC for a free on-site evaluation to get your kitchen cabinet refinishing started in Kansas City
We have provided services for homeowners throughout Missouri and Kansas, including Overland Park, Roeland Park, Shawnee, Olathe, Lenexa, Blue Springs, Lee's Summit, Parkville, and many other Kansas City areas. We can offer exterior painting, interior painting, drywall and wood rot repair, banister painting, and of course, offering Kansas City cabinet painting and cabinet refinishing. Quality is built-in when working with the painting contractors at Elite Painting KC.
Call today to schedule your free on-site project evaluation with one of our professional Kansas City cabinet painters.